R4
Eleven eBooks on Modern Korean Art Now Available on Amazon
KAR (Korea Art Revelation) has been established to introduce Korean artists to global art communities since 2021. To facilitate its goals, KAR opened Gallery R, R stands for "Revelation", and a publishing agency which focuses on e-books of Korean modern artists. So far, KAR has been published 18 e-books. Those e-books are the "firsts" of its kinds in Korean art market and several of them quickly became best and steady sellers.
Besides its exhibitions, Gallery R also introduce several new business practices which include a "public" pricing policy on its exhibitions. Since a very few galleries in Korea are incorporated, Gallery R's reform-oriented practices have been welcomed by various Korean art communities. Below are the e-books (digital art catalog) which published in Korea and at Amazon;
HONG MyungSeop & RYU ByoungHak_Topological Scape. 2022
HONG MyungSeop_Shadowless_Artless_Mindless. 2022
KIM Eull & RYU ByoungHak_Brush, Tear & Hammer. 2022
PARK KiWon & RYU ByoungHak_Dialogue with Empty Spaces. 2022
CHANG Jia & RYU ByoungHak_Chang, Jia. 2022
HA BongHo & RYU ByoungHak_Escape from the Photography through the Photography. 2022
KIM HaeMin & RYU ByoungHak_The Sixth Sense Message. 2022
KIM TaeHeon_Every Paintings Talk. 2022
RYU ByoungHak_I'm an Artist with Plenty of Lies. 2022
AHN SiHyeong_In Search of Lost Memories. 2022
RYU ByoungHak_Thing/Work Debate. 2022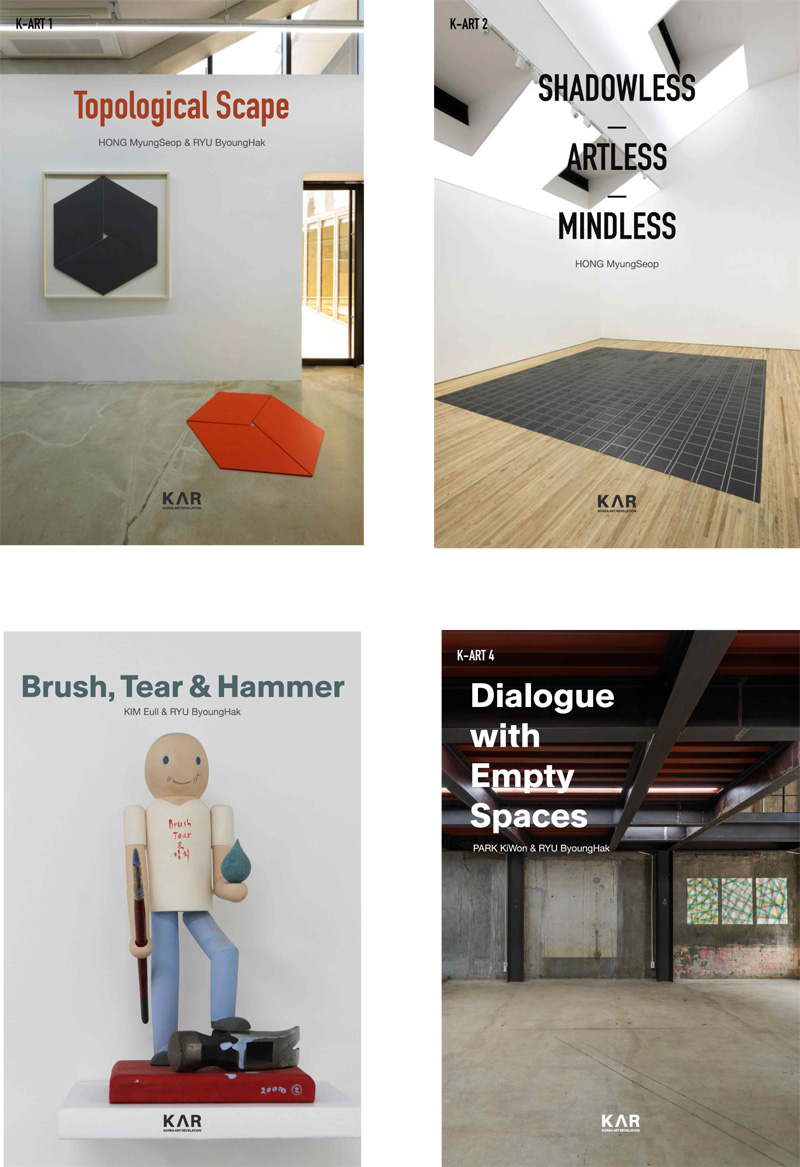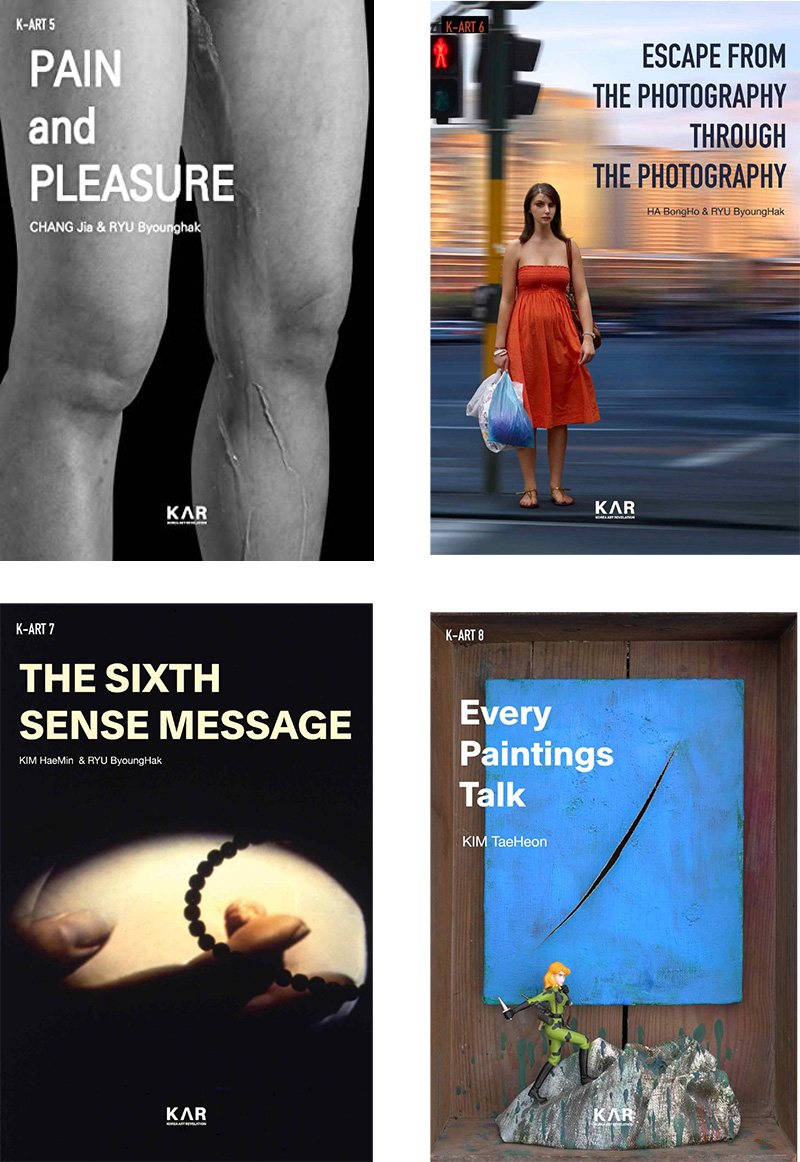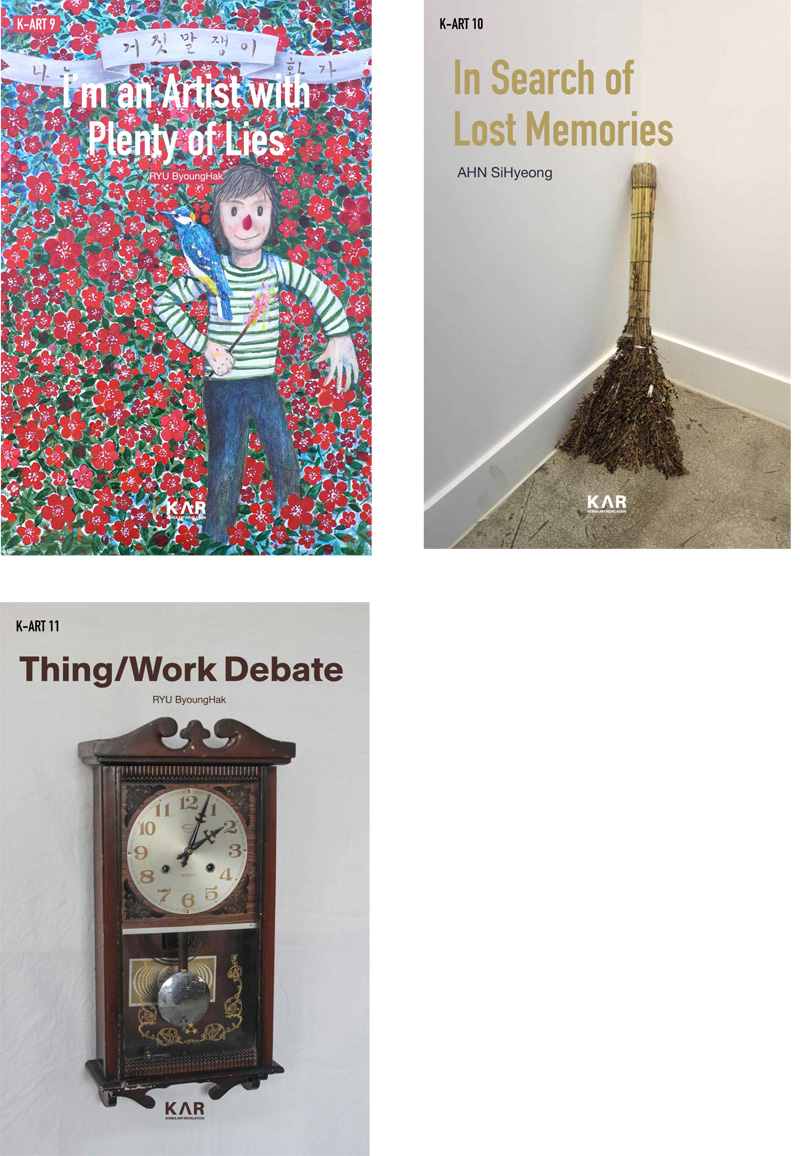 Publish KAR
Publisher HWANG YoungBae
Address KAR
#B01 294 Gwangnaru-ro, Seongdong Tax Tower,
Seongdong-gu, Seoul, 04796, Republic of Korea
New Art Publishing Culture
Digital Art Book
Publisher KAR published a total of twenty-three volumes of the Korean electronic edition from December 2021. Art critic RYU Byung-hak wrote seventeen of these "Digital Art Books" and six of them by artists themselves.
Publisher KAR wants to lead a new publishing culture in the art world. The art critic RYU is noticeably confident saying; "The advent of 'eBooks on Korean art' will go beyond the changes in publishing culture and contribute to the creation of a qualitative art world."
Eleven English editions are now available on Amazon for $4.99 each and free for Kindle users.
Artists Profile
Artist HONG Myung-Seop (b.1948) was born in Pyongyang and received his bachelor's and master's degrees in sculpture at Seoul National University. In 1990, he was invited to the 44th Venice Biennale and drew attention from the art worlds at home and abroad.
Hong Myung-Seop has been invited to many international exhibitions at both home and abroad including: "ASIANA", the special exhibition of the 46th Venice Biennale, the 95 International Small Sculpture Triennale in Pelbaha, Stuttgart, Germany, a two-person exhibition at the Ars Polona Gallery in Warsaw, Poland, and "95 Korean Contemporary Art: Quality, Quantity, Sense," a special exhibition of the National Museum of Modern and Contemporary Art in 1995: 'Pair' in Koln, "International Kunst Form" in Dreven, Germany, "97 Gwangju Biennale Special Exhibition", Korea, "2000 Media City-Seoul", Korea, "Busan International Art Festival (a.k.a. picaf)", Korea, "2003 Savona Biennale," in Italy (biennale of ceramics in contemporary art), "Anyang Public Art Project" in Korea, in 2005, "Fluid Artcanal International" in Switzerland in 2006, "Rainbow Mapping Project" in Germany in 2007, "Busan Biennale" in 2008, "De-sense/Re-sense" at ESC Gallery in Graz, Austria, "Incheon International Digital in 2009" in Korea, "FLOW," Kunstbad, Graz, Austria, "Running Railroad," Cultural Center of Novi Sad, Serbia in 2012, "Busan Biennale" in 2016, and many others.
He served as a professor at Hansung University's College of Art and as director of the Cheongju Museum of Art, and is also active as an art critic. He has also written numerous critiques, research papers and essays on artists, as well as monographs. Many of them in books that include Contemporary Art in the Transition Period (Sol Publishing Company: 1991), Between Art and Criticism (Sol Publishing Company: 1995), Basic Concepts of Contemporary Art, Edited by Kang Seong-won(Enthology: 1995), and Artistic Usage of Contemporary Philosophy (Art Books: 2017).
His works are in the collections of national and public art museums such as Seoul Museum of Art, Gyeonggi Museum of Art, Pohang Museum of Art, Arko Art Museum, Daejeon Museum of Art, and Cheongju Museum of Art, private art museums including Hoam Art Museum, and private collectors.
Artist Eull KIM (born in 1954) graduated from Wonkwang University's Department of Metal Crafts in 1981 and Hongik University's Graduate School of Industrial Art in 1989. He held his first solo exhibition at Kumho Gallery in 1994 and was invited to numerous solo and group exhibitions.
Eull KIM had not only been invited and exhibited by domestic museums and galleries, such as the National Museum of Modern and Contemporary Art, Korea, Gyeonggi Museum of Modern Art, and OCI Museum of Art but had also been invited and exhibited by overseas art museums and galleries, such as KUNSTRAUME in Cologne(Koln), Germany, Le Basse Projects, Andrewshire Gallery, and Baik Art in Los Angeles, USA, Pax Arts Asia in Beijing, China, and Tokyo Art Museum in Japan.
Eull KIM was awarded the at the National Museum of Modern and Contemporary Art, Seoul, in 2016 and the 'Lee Jungseob Award' in 2018. He was a resident artist at PSB Residency in Beijing, Gyeonggi Creation Center, and Gyeongju International Residency.
Kim Eull has also published a total of seven drawing books, including (Gallery FISH, 2004), (2005), (Collapsible Museum, 2006), (Gallery Ssamzie, 2006), (Arko Art Center, 2006), (2007), (2011).
Artist PARK Kiwon (born in 1964) graduated from Chungbuk National University, Department of Art Education in 1989. In 1990, he received the Grand Prize of Joongang Fine Art Prize from Hoam Gallery, the predecessor of Leeum Museum of Art. In 2010, he was selected as 'Artist of the Year' by the National Museum of Modern and Contemporary Art.
Park Kiwon presented his first spatial work in the exhibition, "Move" at Gaain Gallery in 1996, and the second one in "Sense" at the Centre for Contemporary Photography in Melbourne, Australia in 1997. Since then, he has held numerous solo exhibitions at prestigious art organizations including; Arko Art Center in Seoul, The Reina Sofia National Art Center Musem in Madrid, Mickey Wick Kim Contemporary Art in Zurich, Gallery A Continua in Beijing, National Museum of Modern and Contemporary Art in Gwacheon, and 313 Art Project in Seoul, etc.
The list of selected group shows Park Kiwon participated is as follow: "The Facets of Korean and Japanese Contemporary Art" Gwangju Biennale in 2000, "Clouds" at Marronnier Museum in 2004, Venice Biennale in 2005, "Void in Korean Art" at Leeum Samsung Museum of Art in 2007, "Contextual Listening" at Mongin Art Center in 2008, "Signature" at National Museum of Modern and Contemporary Art Seoul in 2009, "Korean Dansaekhwa" at National Museum of Modern and Contemporary Art in 2012, "Flower of a Moment" at OCI Museum of Art in 2012, "Korean Art: Era of Grand Navigation" at Busan Museum of Art in 2013, "Reverscape" at the Amorepacific Museum of Art in 2013, and "Daam-hua" at the Institute of Contemporary Arts Singapore in 2013.
"Beyond the Border" at the East Side Gallery Outdoor Space in Berlin in 2014, "Empty Fullness" at the Shanghai Oil Painting and Sculpture Institute Art Museum(SPSI Museum), Shanghai in 2014, "Spheres 7" at the Gallery Continua, France in 2014, "Into Thin Air" at the Kumho Museum in 2015, "Esprit Dior" at DDP in 2015, "As the Moon Waxes and Wanes" at the National Museum of Modern and Contemporary Art in 2016, "Radical Art" at Cheongju Museum of Art in 2019, "Vibrancy ∙ Life" at Jeju Museum of Art in 2019, and both "Exciting Colors" and "Horizontal Axis" at National Museum of Modern and Contemporary Art in 2020.
Park Kiwon's works are in the collections of the National Museum of Modern and Contemporary Art, Seoul Museum of Art, Amorepacific Museum of Art, Louis Vuitton Foundation, Cheongju Museum of Art, Daegu Art Museum and private collectors.
Artist CHANG Jia studied media art at Korea National University of Arts in 2001 and graduated in 2004 as MA in media art. She has held her solo exhibitions at Art Sonjae, Ilju Art House, and Alternative Space Loop and Gallery Jeongmiso, as well as at Walsh Gallery in Chicago and Doosan Gallery in New York.
Chang Jia was invited to various group exhibitions at home and abroad. Selected list of group exhibitions abroad or in international context include: "Total global"(Basel Museum of Contemporary Art, Switzerland), "International Conference of 2000: Social Praxis of the image"(Taipei), and "International Art Festival 2000 'Living Together"(Amyu Tachikawa, Tokyo) in 2000, "Beyond origin"(Greek United States of America, Athens) in 2001, "Relative Reality"(walsh gallery, Chicago) and "Crossings 2003"(Koa Gallery, Hawaii) in 2003 , "A Drop of Water"(Gwangju Biennale) in 2003, "Body Around"(Korean Cultural Center Los Angeles), and "Thai Film Festival"(Bangkok) in 2004.
"Korea-Japan Exchange" (The University of Tokyo), "Seoul Now"(Charlottenborg Exhibition Hall, Copenhagen), "Enclosed_CONTEMPORARY MEDIA ART SCREENING"(British Museum UK), and "Move on Asia"(Remo Gallery, Osaka) in 2005, "Gender and Society"(The Art Gallery, Florida) in 2006, "The Limit of the Senses"(NYK gallery, Yokohama), "Women Artists in Action"(Somart Gallery, San Francisco) in 2007, "Coffee with Suger"(Bulgaria , Turkey, Denmark), "Out of Touch"(Kunsthalle Wine Ursula Blickle Video Lounge, Vienna) in 2008.
"Resonance Green Korea"(Fredericksburg, Copenhagen) in 2009, "Move on Asia, The End of Video" (Art LA Boral Centro de Arte y Creacion Industrial, Gijon, Spain) in 2011, "Viva Arirang"(Palais de Glace National Museum of Art, Argentina), "Energy" (Daejeon Museum of Art) in 2012, "What if~Corea Campanella"(Amadeus Hotel, Venice), "2013 Spain-Korea Exchange Exhibition" (Barcelona Korean Cultural Center, Spain), "Move" on Asia"(ZKM Media Gallery, Karlsruhe Germany) in 2013, "Asian Contemporary Sculpture Exhibition"(Boer Art District, Kaohsiung) in 2014.
"Moscow-Korea Contemporary Photography Exhibition"(Gallery of Classic Photography, Moscow, Russia), "Sleepers in Venice"(Calle del carbon, Venice) in 2015, "Atlantic Project"(Plymouth Royal William Yard, UK), "Intimacies and Imagined Futures"(Soma art space, Berlin), "Gangwon Biennale: Dictionary of Evil"(Gangneung Green Experience Convention Hall) in 2018, "Between Two Waves Ⅳ"(Korean Cultural Center, Shanghai), "Feasts on Paper" (Fengxien Museum, Shanghai) in 2019.
Chang Jia was awarded the Doosan Yonkang Artist Award from the Doosan Cultural Foundation in 2012, and was short listed for the National Museum of Modern and Contemporary Art's Korea's 'Artist of the Year Award' in 2014. Her works are collected at the National Museum of Modern and Contemporary Art, Seoul, Gyeonggi Museum of Art, Busan Museum of Art, Busan Museum of Modern Art, Daegu Museum of Art, Suwon I'Park Museum of Art, Daejeon Museum of Art, Hanmi Museum of Photography, Total Museum of Art, Amsterdam Institute Media Art Archive (Monte Video), Artist Pension Trust Beijing, Chicago Walsh Gallery, National Film Archive, and Architectural Office Unsangdong.
Artist BongHo HA graduated from Osaka University of Arts in Photography in 1986 and completed a two-year research course at the Graduate School of Photography at Nihon University in Japan. He worked at Photomas studio and POTHOM, Inc. in Japan from 1986 to 1992. After that, he returned to Korea and founded 'Hawamodu,' a group that makes light and photography, in 1994. Currently, he works as the representative and artist of 'Hawamodu.'
BongHo HA mainly works on photography and video works. First of all, the exhibitions he participated in are as follows; 2016 Busan Biennale, 2016 International Congress of Aesthetics Special Exhibition - Paradigm of Media + Art (Art Center White Block, 2016), This is not a technology (Gallery Jungdabang Project, 2016), Art in Life (Gallery Yangsan, 2016), Art Map: 2013 Maeulmisul Project (Jungsun, 2013), 2012 Pyeong Chang Biennale (Pyeongchang Alpensia Resort, 2012), 2010 Media Art Festival: DIGIFESTA (Gwangju Biennale Exhibition Hall, 2010), 2009 Asia Art Biennale (National Taiwan Museum of Fine Arts, 2009), 2009 Prague Biennale (Czech, 2009), One Fine Spring Day (Gwangju Museum of Art, 2008), The 8th Korean Contemporary Art Festival (Seoul Arts Center, 2007), 5028, Human, and More (Gallery Illum, 2007), Direction of Photography (Silk Gallery, 2004), Self-Portrait of Korean Art (Museum of Art in Sejong Arts Center, 2002), Flow of Korean Contemporary Photography (Seoul Arts Center, 1994), The New Wave of Photography (Walker Hill Art Center, 1988).
Why is BongHo Ha not well known in the domestic art world in Korea even though he was invited to major international exhibitions? Almost all of his exhibition careers are listed above. What is missing is his solo exhibition. He held only his first solo exhibition at the Nikon Salon in Tokyo, Japan, under the title of in 1986. Nevertheless, art critic ByungHak RYU regards BongHo HA as a domestic photographer who can compete with the international photography world. It is the word of ByungHak RYU.
"BongHo HA is a unique photographer who works with photography that reverses the camera system. It seems appropriate to say that he 'creates' rather than 'takes' art photographs by learning the mechanics of photography with his body. He is an artist who tries to get out of the photograph through the photograph.
Artist KIM Haemin (born in 1957) is the first generation media art artists of Korea who follows the genealogy of Nam June Paik, who is also called the 'father of video art'. For 35 years from the late 1980s to the present, he has been producing art works on various themes, including not only art, but also human life and death, the division of North and South Korea, and religious issues.
Kim Haemin had his first solo exhibition at Mee-Gun in 1994. The work, TV Hammer (1992) in the exhibition created sensation and it brought him attention from art field. He has held tens of solo exhibitions including; "Video as the Mudang" at VA nisiogi in Tokyo in 1996, "Trick of Standing Erect" at Kumho in 2003, "Smash!" at Arario in 2016, etc. Kim Haemin also participated various group exhibitions in Korea and abroad. The selected list of group exhibitions with international context only is as follows.
In 1990's "Korea-Japan Performance Art Festival" at Tokiwaja Theater, Tokyo, Japan; 1991's "Keumgang International Nature Art Festival" at Kongju Culture Center, Kongju, Korea; "The 2th Daejeon Triennale" at Daejeon Culture Center, Daejeon, Korea; "Camp in Tajima" Performance Art Symposium at Tajima, Japan; "Nan-Dong" Video Art Installation at Gallery Q, Tokyo, Japan; "Multimedia Performance Art Festival" at Walkerhill Art Museum, Seoul, Korea; in 1992's "HIER UND DA, a Nature Art Symposium" at Schuberg, Germany; "GAIA' International Art Symposium" at Kulturhut, Gelsen Kirsen, Germany; "Film for Art Video Festival" at Kulturhut, Essen Germany; in 1993's "Film for Art, Video Festival" at Kulturhut, Essen Germany; "Winds of The Media from Asia, The 5th Fukui International Video Biennale" at Fukui Fine Art Museum, Japan; 1994's "'Izumiwaku Project' Art Exhibition" at Izumiwaku, Tokyo Japan; 1995's "Meiho' Art Symposium" at Meiho, Japan; 1996's "The Self and The Other" at CASA Gallery, Tokyo Japan; "Izumiwaku Project" at Izumiwaku, Tokyo Japan; 1997's "Kwangju Biennale Special Art Exhibition" at Kwangju Municipal Museum of Art, Korea.
2000's "Media City in Seoul" a Subway Project at Kwang-Wha-Mun Station, Seoul Korea; "Serendipity: Multimedia Installation in Asia" at Japan Foundation, Tokyo, Japan; 2001's "Excess, Multimedia Art Asia Pacific" at Brisbane Powerhouse and online, Australia; "Korean Contemporary Art Show" at ICAF, Los Angeles U.S.A; 2002's "Serendipity Multimedia Art Exhibition" at Japanese Culture Institute, Germany; "Contemporary Korean Film Festival 2002" at Aichi Art Center, Nagoya Japan; "Media Art Daejeon-New York Special Effects" at Daejeon Municipal Museum of Art; 2006's "Sea Art Festival of Busan Biennale 2006" at SK Pavilion, Busan Korea; "Animamix Bienniale" at Museum of Contemporary Art Shanghai, China; "Video Dumbo, 11th Video Art Festival" at Dumbo, New York USA; "Counterpoint" at Space C Museum, Seoul Korea/Bund18 Creative Center, Shanghai China.
2008's "Los Puntos del Compas' Korean Contemporary Art" at Fundacion Ludwig de, Havana, Cuba, "Counterpoint" at Galeria U Jezuitow ul., Poznan Poland, 2009's "Grenzland" at Romer 9, Evangelische Stadtakademie Frankfurt and Neuer Kunstverein Aschaffenburg, Germany, 2010's "EMAP Techne-scape' lnternational Media Art Festival" at Ewha Womans University, 2013's 'JU-AN' International Media Art Festival_JU-AN Media zone, Inchon Korea; 2014's "International Video Art House Madrid" at La Neomudejar, Madrid, Espana, "The Future is Now" at MAXXI Museum, Rome Italy, 2018's "Ovni Video Festival 2018" at OVNi in Hotel Nice, France.
Kim Haemin participated in residency programs at Selk Kunstlerhaus(1992), Samsung Museum's Woonie Atelier (2000-2001). His works are collected by many private collectors and public institutions such as National Museum of Modern and Comtemporary Art, Korea; Seoul Museum of Art; Daejeon Museum of Art; Gyeonggi Museum of Modern Art; Daegu Art Museum; Jeju Museum of Contemporary Art, Korea; Ilmin Museum of Art; Art center nabi; Arario Museum; and Interactive Museum, Gapyeong.
Artist Tae-heon KIM hosted his first solo exhibition at Samjung Museum in 1993 when military regime ceased and the civilian government was established. In 1994, he was selected as 'critic's chosen promising artist' (planned by Yoon Bum-mo), held at DONGA GALLERY, on the recommendation of art critic Shim Kwang-hyun.
In 1998, he gained attention in the art world with (Sunggok Museum of Art/Tomorrow's Artist). He was invited to various group exhibitions at home and abroad, including the Gwangju Biennale and (Andrewshire Gallery, LA, USA) and etc.
He has held more than 20 solo exhibitions at Sungkok Museum of Art, Samjeong Museum of Art, project space SARUBIA, Fish gallery, Gallery Skape, SPACEMOM MUSEUM OF ART, BONGSAN Cultural Center/4 Exhibition Hall, space jamo, and Gallery Maritime, and etc.
In 1999 and 2000, he published a series of "Picture Diary" in the form of pictures and texts in "Bundang News" which is a local newspaper. In 2007, he drew pictures in a serial story by Gong Ji-young in JoongAng daily newspaper and also published pictures/texts in Gyeonggi newspaper under the title . He also published several 'art books' made up of images and texts.
These include (Gallery Fish. 2004), (Pictogram. 2004), (Arko Museum of Art. 2006), (Gallery Skape. 2007), (pictogram. 2010), (TABLE STUDIO. 2010), (UPSETPRESS / Alma Publishing Company), and (UPSETPRESS / Alma Publishing Company). published by space jamo in 2020 is Tae-heon Kim's 9th art book.
Tae-heon Kim's artworks are owned by national and public art museums which are Kumho Asiana Museum, Sungkok Art Museum, Busan Demopark Memorial Hall, Gyeonggi Museum of Modern Art, Arario Gallery and Seoul Museum of Art, and by private art museums and private collectors.
Artist AHN si-hyeong graduated from Dong-eui University, majored in Art in 1995 and Yeungnam Graduate School of Arts & Design in 2001. One of his representative works, 'Stone' began in the mid-1990s right after he graduated from his University, and continued to work until 2010. He submitted his work 'Stone' to the Korean Art Festival in 1995 and Korea Young Art Festival in 1996.
He was invited to the Asian Contemporary Sculpture Exhibition in 1997 and Korea Youth Biennale in 1998. He won the International Stone Sculpture Competition in Hyogo , Japan in 2000 and left behind , a 2.4 meters high granite stone split off and reattached in Awaji Island Sports Park. In the same year, he was invited to the Sarajevo Winter Festival in Bosnia and held his first solo exhibition.
In 2001, he was invited to the Hualien International Stone Sculpture Exhibition) in Taiwan. In 2004, he was invited to in Poznan, Poland and to MMAC FESTIVAL IN TOKYO. In 2006, he participated in the Busan Biennale Sculpture Project with Moon Byung-tak and Park Bong-ki, and submitted his work ' Stone' to the Incheon Women's Art Biennale in 2009 and the Incheon International Digital Art Festival in 2010.
Ahn si-hyeong's work 'Stone' is that he moved a broken stone or a damaged stone from a roadside to the studio and cured it with a grinder and sandpaper. He healed the broken stone and returned it to the river. Hence, he named his stone work, so-called 'Making river stone'. He has tried new work since 2008. It originated from the thoughts of himself living with being buried in daily items.
They are as in the following. 'Nail'(2008) made by bringing bent nails, which came out after burning wood in the boiler of the house, to the workplace and unfolding. 'Satellite City'(2008) and 'In search of the Way'(2011) are what he worked on using electromagnetic plates after he was fascinated by the inside of a broken computer body. 'Black Orchid'(2011) he made after he saw cable ties for temporary fixing(black plastic for fixing), when Dennis Oppenheim's Work was installed on the beach of Haeundai(next to Novotel). 'Cleaning the House'(2011) made mixing dust in a vacuum cleaner with bond to harden after cleaning the house, and 'Prunus Vase for Mineral Water'(2012) made using a plastic bottle that was in the garbage eaten or thrown away at home, etc.
Ahn si-hyeong, who went one step further, has worked on so-called 'Story' series consisted of everyday items and his texts since 2013. For example, the mass-produced 'Ready-made goods' such as wall clock, boxes of matches, fan, vinyl record, stamp book, cigarette, coffeehouse lighter, piggy bank, and black and white TV have been on display with his texts. 'Story' series is the work that brings back 'Ready-Made', that we lost, in a unique perspective, owing to Marcel Duchamp. Art critic Ryu Byung-hak rates Ahn si-hyeong's Stone' work and 'Story' series as radical ones after Duchamp's 'Ready-Made'.
Ahn si-hyeong's 'Story' series was submitted to at Linyi Museum of Art in China in 2013, at Buk-Seoul Museum of Art in 2015, at Vestfossen Art Gallery in Norway in 2016, at Museum SAN in 2018, at Ochang Gallery, Cheongju Museum of Art in 2019, and at BKC Cultural Center in Sarajevo in 2020.
RYU Byoung-hak graduated from Staatliche Akademie der Bildenden Kunste Stuttgart, Germany, and works as an art critic and independent curator.
Representative Planning Exhibitions by independent curator Ryu Byoung-hak are as follows. planned in Poland in 1994, Yun Hyong-keun's solo exhibition of 'Stiftung fur Konkrete Kunst, Reutlingen' in 1997, at Kumho Museum of Art in 1998, 'Subway project' of 'mediacity_seoul' hosted by Seoul in 2000, Busan Biennale Sea Art Festival in 2006, 'Mobile art' at Incheon International Digital Art Festival in 2010, and he organized large domestic and international exhibitions in charge of the art director of SK Pavilion at EXPO 2012 YEOSU KOREA.
Art critic Ryu Byoung-hak is the author of more than 50 books, including (Cineworld) in 1994, (Kumho Museum of Art) in 1998, (Morning Media) in 2001 and (Artbooks) in 2002.
Director Ryu Byoung-hak was the screenwriter and director of the three-dimensional film in 2001 and he was also in charge of directing of the total play performed at Arko Arts Theater in 2012.
Ryu's representative awards are the German IG Metall Prize in 1990, and the President Roh Moo-hyun Prize in 2008.
Welcome to Gallery R
KAR owned Gallery R from Seoul participates Seattle Art Fair 2022 with four artists - HONG Myungseop, Kim Eull, PARK Kiwon, & CHANG Jia. For more information, see the attached digital catalogue 'R4'.
Gallery R #B01 294 Gwangnaru-ro, Seongdong Tax Tower, Seongdong-gu, Seoul, 04796, Republic of Korea I TEL 02-6495-0001 I e-mail galleryrkr@gmail.com I homepage galleryr.net I instagram.com/galleryrkr/
* Attachment Image
1. HONG MyungSeop & RYU ByoungHak_Topological Scape. 2022
2. HONG MyungSeop_Shadowless_Artless_Mindless. 2022
3. KIM Eull & RYU ByoungHak_Brush, Tear & Hammer. 2022
4. PARK KiWon & RYU ByoungHak_Dialogue with Empty Spaces. 2022
5. CHANG Jia & RYU ByoungHak_PAIN and PLEASURE. 2022
6. HA BongHo & RYU ByoungHak_Escape from the Photography through the Photography. 2022
7. KIM HaeMin & RYU ByoungHak_The Sixth Sense Message. 2022
8. KIM TaeHeon_Every Paintings Talk. 2022
9. RYU ByoungHak_I'm an Artist with Plenty of Lies. 2022
10. AHN SiHyeong_In Search of Lost Memories. 2022
11. RYU ByoungHak_Thing/Work Debate. 2022
12. Gallery R_R4